Calculator and guide
Want to improve your home, but can't quite afford it? A home improvement loan might just be the ideal option for you.
Home improvement loan calculator
We know home improvements can be expensive, so a loan could give you the cash boost you need to make them a reality.
Quickly find out what you could borrow with our home improvement loan calculator.
Based on the value of your property and the amount outstanding on your mortgage, the maximum you could borrow is £.
Change the Loan Term:
| | | | | | | | | | | | | | | | | | | | | | | | | |
| --- | --- | --- | --- | --- | --- | --- | --- | --- | --- | --- | --- | --- | --- | --- | --- | --- | --- | --- | --- | --- | --- | --- | --- | --- |
| 1 | 2 | 3 | 4 | 5 | 6 | 7 | 8 | 9 | 10 | 11 | 12 | 13 | 14 | 15 | 16 | 17 | 18 | 19 | 20 | 21 | 22 | 23 | 24 | 25 |
We're here to help you get the funds you need as quickly as possible, making it easy for you to compare thousands of loan options and decide which offer is best for you.
Guide to home improvement loans
Making improvements to your home is a good investment as a homeowner. You can make the space a nicer place to live and, depending on the improvements you make, you could increase the value of your home. This means that if you ever sell and move on, you can recoup the amount you spent — and maybe more.
When making home improvements, you need to be realistic. If your goal is to sell the property and make a profit, spending £40,000 on improvements in a two-bed semi detached house won't necessarily increase the value of the house by £40,000. There is usually a maximum value on the average property, regardless of how much work you put into it.
However, if you're thinking of staying put, £40,000 may be just what you need to turn your house into your dream home.
What's a home improvement loan?
It's exactly as it sounds: a loan that you can take out to make improvements on your home. If you're more interested in small improvements than a home makeover, a personal loan (an unsecured loan with a short repayment term) may cover the costs.
On the other hand, if you're looking at a much larger and much more expensive project, such as an extension to your home, a secured homeowner loan may be better suited.
Why take out a home improvement loan?
There are a number of reasons why a home improvement loan could be an option, but the most common reasons are:
Your home may need urgent repairs or renovations, such as new roof or replacing the central heating or double glazing
You need more living space by way of an extension, conservatory, or loft conversion
Your existing kitchen or bathroom is outdated and worn out, and you want to replace your appliances
You want to increase the value of your home before you sell it
Who is a home improvement loan suitable for?
Home improvement loans are suitable for anyone looking to improve their home. They're popular with first-time home buyers, particularly those that have purchased a fixer-upper that needs some extra work.
These properties are often favoured by first-time buyers as they're a more affordable way of getting on the property ladder. It also gives them the opportunity to use the home as a project and really make it their own.
If you are a first-time buyer, it's important to note that it's unlikely you'll be granted a secured homeowner loan straight away, as you need to build up equity (the amount of the home you own outright, free from mortgage) in the property. You may, however, be eligible for a personal loan.
How much should I borrow with a home improvement loan?
This all depends on how much the work you want is likely to cost. We recommend you get quotes from a few different companies to get an average cost price before you apply for your home improvement loan. You should also look at various factors when deciding how much to apply for, including:
The amount of work needed
The materials required
The amount of equity you hold in your home
Your credit rating and repayment plans
"Personal loans are unsecured, so your property — or any other assets — are never at risk."
Depending on your circumstances, you could take out a personal loan from £1,000 up to £35,000 to cover the estimated cost of the work. Personal loans are unsecured, so your property — or any other assets — are never at risk.
If you're expecting to need more cash and you don't have the best credit rating, though, you could consider taking out a secured homeowner loan, which could offer you from £5,000 to £5 million.
Because a secured loan uses your property as collateral, the amount of equity you have in your home is a big factor in determining how much you can borrow. However, you should think carefully before securing debts against your home, as it could be repossessed if you can't keep up with repayments.
Here at Loan.co.uk, we can help you work out the best options for your individual circumstances by checking your credit score, arranging the property valuation, and even securing your new loan if you're eligible.
How do you qualify for a home improvement loan?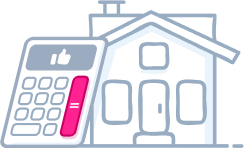 This depends on the type of loan you take out to fund your home improvements. For example, you may only want minor work done in a few different areas of your home, so a personal loan could cover the expenses.
If your home improvement plans are more like a home renovation, a homeowner loan is probably your best option.
A personal loan allows you to borrow between £1000 and £35,000 on a fixed payment plan. This means you'll repay the same amount each month, allowing you to easily budget your finances.
On the other hand, if your home improvement plans are more like a home renovation, a homeowner loan is probably your best option. Qualifying for this type of loan depends on your circumstances, the value of your home, and the equity you hold.
A homeowner loan allows you to borrow up to the amount of equity you have in your property, which means you could borrow as much as your home is worth if you own it outright. However, this debt is secured on your property, so you must keep up with repayments or run the risk of repossession.
Work out how much equity you have in your home

Equity is how much of your home you own outright. This can be worked out by finding out the property's total value minus the amount that's outstanding on your mortgage and any other loans you may have against your property.

Most lenders require you to have at least 20% equity in your home before you're approved for a home improvement loan. This means you must own at least 20% of your home outright.

Check your credit history and credit score

Even if your credit history or credit score isn't the best, you can still qualify for a secured homeowner loan. However, if you have an excellent credit score, you'll likely qualify for a loan at a better interest rate.

Gather financial information

Lenders must ensure that you can comfortably repay your loan without causing you any financial difficulties, so they will likely carry out an affordability test. This involves analysing your income (recent payslips) as well as your outgoings (recent bank statements).

Ask for estimates from different contractors

It's a good idea to know exactly how much the work you're proposing is going to cost you, so you should ask a few contractors for an estimate. Shop around to get an average price and remember to include a contingency amount for larger jobs. Work like loft conversions may well cost more if you run into any unexpected difficulties.
What should I consider before taking out a secured home improvement loan?
A secured home improvement loan means that the amount you borrow is 'secured' against your property. If you find yourself unable to make the monthly repayments on time and for the full length of the loan, the lender could repossess your home.
We suggest that you don't borrow money unless you're certain you can keep up with the loan repayments.
What are the alternatives to a homeowner loan?
If you find that a homeowner loan isn't the right option for you, you may consider:
Unsecured personal loans
Credit cards
Selling your home and moving to a property that has the features you want
Where should I look for a home improvement loan?
A loan broker, such as Loan.co.uk, can help you discover the best home improvement loan options available to you. We'll offer a wide range of lenders for you to compare to find the loan that best suits you.
Which credit option is best for you?
7 home improvements that could add value to your home
How can I finance a house extension?