Secured Homeowner Loan vs Remortgage – which one to choose?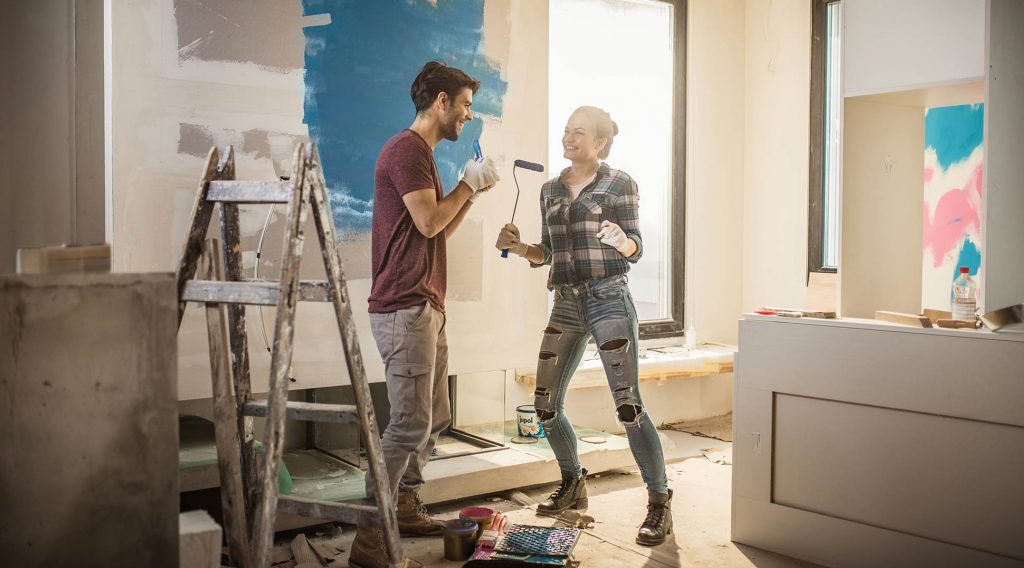 As well as making your home a nicer place to live, fitting a new kitchen, building an extension or adding a bedroom may all increase the value of the property.
A remortgage or a homeowner loan are highly popular ways to finance home improvements. Which is best for making your plans come to life? Both are types of secured loans, so remember, if you don't keep up with repayments, your house may be at risk.
Remortgage
Will your ideas require a lot of money to carry out? Often the best option to consider will be a remortgage. This involves taking out a new, larger mortgage on your home, so that the loan is big enough to repay your existing mortgage as well as cover the home improvements.
This type of loan is usually a great route as long as your current mortgage's discounted or fixed term has come to an end and you would have no early repayment charges.
The lender may require quotes from contractors to help confirm why you require the money above and beyond the amount needed to repay your existing mortgage. You will also need a decent credit rating.
Remortgage snapshot:
Almost 50,000 remortgages were taken out in January 2018. That's 19% more than for the same month in the previous year
This was the highest monthly amount since November 2008
The £8.9 billion worth of remortgaging in January 2018 was 3% more year-on-year
When is it a good option to remortgage?
 There are many situations and circumstances when it may be worth considering remortgaging, including:
1. You want to borrow more to fund home improvements
Remortgaging may enable you to raise the money you need at a competitive rate.
2. Your fixed, tracker or discounted rate is ending
Many mortgage deals only last two to five years. When this period comes to an end, the lender will usually revert the mortgage to their standard variable rate (SVR). This is unlikely to be as competitive as some of the new mortgage deals that are out there.
3. You want a more competitive rate
Depending on the rate you are on now or about to move to, the savings can be significant, especially if you have a large outstanding mortgage balance.
However, please check if your mortgage includes an early repayment charge (ERC) that you would need to pay as this penalty can work out expensive. If so, please work out carefully whether if would make financial sense to remortgage.
4. You're concerned that the interest rate will go up.
If the Bank of England base rate goes up, it may affect the amount you pay for your mortgage each month. Of course, this will depend on the type of mortgage you have and whether or not any discounted or fixed rate period has ended.
5. The value of your home has risen dramatically
Has the value of your property has gone up since you first took out your existing mortgage? It may be that you're now in a lower loan-to-value (LTV) band making you eligible for a much lower rate.
What's the process for a remortgage?
Remortgaging usually involves carrying out the following steps:
Step 1: Contact your existing lender and request a redemption statement. This will confirm how much is outstanding on your mortgage. It may also include any fees and costs involved with repaying the loan.
Step 2: Search for a remortgage. You will find a mortgage broker such as Loan.co.uk useful for this.
Step 3: Complete your mortgage application. To make this as easy as possible, have your payslips and bank statements to hand. Remember, to be approved for a remortgage you will need a good credit score and be able to pass an affordability check.
Step 4: Your property is valued. The lender will need to confirm how much your home is worth.
Step 5: A solicitor requests the title deeds. They will also carry out the necessary searches to ensure that nothing is planned in your locality that would reduce the value of your home. For example, a motorway being built near to you.
Step 6: You are given a completion date. If your remortgage is approved you will be given the date that your existing mortgage will be repaid, and your new loan starts.
When is a homeowner loan a better option than a remortgage?
A homeowner loan is sometimes known as a secured loan or second mortgage. If you choose this option, your mortgage stays exactly as it is, but you borrow an additional amount using your home as collateral.
To do this you will need to have enough equity (that's the part of your home's value that has no borrowing against it) to qualify for a secured loan. We explain this in greater detail further below.
One of the main reasons a homeowner loan may be a better option than a remortgage, would be if you were faced with having to pay significant exit fees. These can run into thousands of pounds, depending on the circumstances.
What's more, a remortgage may involve incurring further charges, such as a valuation fee, legal fees and an arrangement or booking fee. This may make a secured homeowner loan more attractive than a remortgage, as this will usually involve far fewer fees.
Would you be approved for a remortgage?
Sometimes, a homeowner loan is chosen because there are doubts around whether a remortgage would be approved. This may because your credit score is low. Of course, a lender would still need reassurance that your income would comfortably cover the whole of the total remortgage.
Since you took out your existing mortgage, your circumstances may have changed so you may find that it's harder to secure a remortgage. For example, if have become self-employed, your income may well have increased, but your credit score might have gone down, making it difficult to become approved for a remortgage.
With a homeowner loan, lenders may charge slightly higher rates, but they are often more likely to still consider your application if you are self-employed or if your credit rating is not excellent.
When considering a secured homeowner loan or a remortgage, it is critical that you work out which option makes more financial sense for you bearing your circumstances in mind.
The process for homeowner loan
Applying for a homeowner loan follows a similar process as for a remortgage. After all, both are similar in that the loan is secured on your home. After deciding on the amount you need, a broker such as Loan.co.uk could help you to find a lender that is likely to help you and will take your circumstances into consideration.
It's useful to have wage slips, bank statements and proof of ID/address to hand as the lender will need these when processing your loan application. You may need to have your property valued, but sometimes an online valuation will suffice.
A homeowner loan is secured on your property therefore you need to make sure you can comfortably manage the monthly repayments as it carries similar risks to a mortgage. In fact, affordability will be one of the things the lender will look at when deciding whether or not to approve your secured homeowner loan.
Remortgages and homeowner loans compared
Here's an at-a-glance guide to give you a quick overview:
| | | |
| --- | --- | --- |
| | Remortgage | Homeowner loan |
| Good for borrowing a large amount | Y | Y |
| Very low interest rates | Y | N |
| Fairly low rates | Y | Y |
| Excellent credit rating needed | Y | N |
| Suitable if you are trapped by exit penalty fees | N | Y |
| Equity required in your home | Y | Y |
| Home at risk if you fail to keep up with payments | Y | Y |
How to work out how much equity you have in your home
Home equity is the portion of your home that you actually own, without any loan secured against the property. Working out how much equity you have is easy:
The price you paid for your home may not be the current market value of your home – it has probably gone up, but it may have gone down. Ask a local estate agent for a free valuation, or if you have no time, search online for a free property site to get a good idea of what it's worth.
Once you have the current market value of your home, subtract the amount you still owe on your mortgage and any other loans you have secured against your property. You will have the equity you have in your home.
For example, you find that your property is worth £200,000. You still have a mortgage balance of £90,000 and have £10,000 owed on a secured loan you took out years earlier. That means you would have £100,000 worth of equity in your home.
Getting estimates
It's a good idea to get professional estimates for how much the improvement will cost before you start arranging finance. With a clear idea of how much the jobs will cost you'll see how much you would need to borrow. Sometimes it's hard to tell without professional advice:
Get at least three estimates for the job from different builders/fitters/plumbers
Ask friends, family and neighbours if they can recommend reputable contractors
Check for reviews on their work
Make sure that any estimates include everything that you want doing
Meet the contractor in your property so they are familiar with everything they need to know about your home improvement.
Remember, the cheapest estimate does not mean you will be getting the best value and that paying more does not guarantee you the finest work
An alternative to a remortgage or homeowner loan
If you are only planning to borrow a relatively small amount, a personal loan may be useful. Sometimes known as unsecured loans, this type of loan is usually quick and relatively simple to arrange. You pay back a fixed amount every month for the pre-agreed duration of the loan.
On the plus side, the amount you borrow is not secured against your home. The downsides include that the maximum you would be able to borrow would usually be nowhere near as much as with a remortgage or a homeowner loan and that they often have higher rates of interest.
Still pondering whether or not to get the builders in? See how the right home improvements can add real value to your home.
THINK CAREFULLY BEFORE SECURING OTHER DEBTS AGAINST YOUR HOME. YOUR HOME MAY BE REPOSSESSED IF YOU DO NOT KEEP UP REPAYMENTS ON A MORTGAGE OR ANY OTHER DEBT SECURED ON IT.