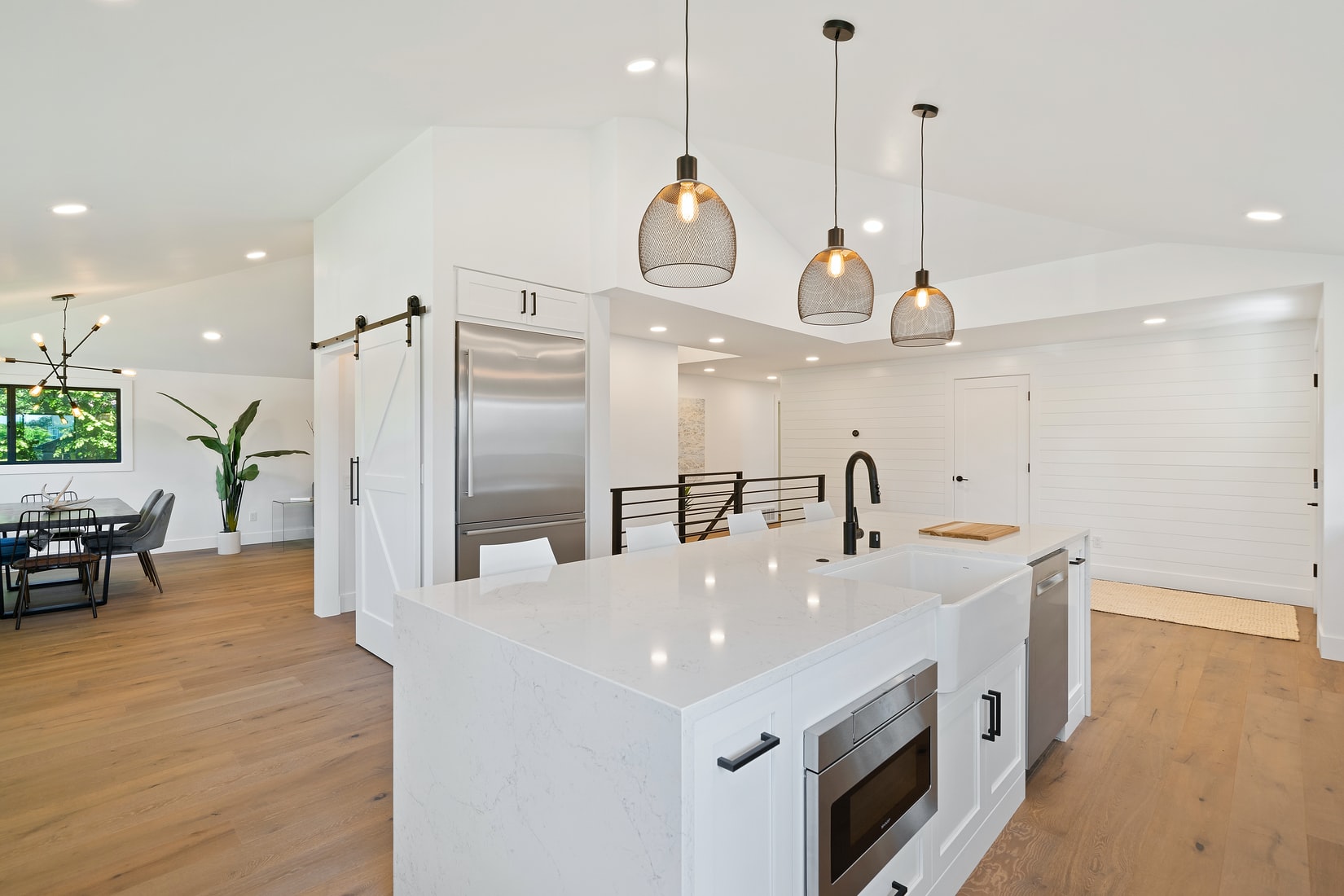 What are my options for funding home improvements?
As well as making your home a nicer place to live, fitting a new kitchen, building an extension, or converting a loft into an extra bedroom may all increase the value of your property. However, before you commit to any major building work, you must consider what the best method of funding the home improvements will be.
Here, we weigh up the pros and cons of remortgaging for home improvements, as well as exploring other options such as homeowner loans, personal loans, credit cards and finance plans.
Remortgaging for home improvements
Remortgaging to pay for home improvements is really no different to remortgaging at any other time. In essence, you take out a new, larger mortgage on your home, so that the loan is big enough to repay your original mortgage and cover the costs of the desired improvements. This new mortgage can be with the same or a different lender.
As always, there are a number of conditions to think about. If you're currently on a standard variable rate (SVR) mortgage, or on a fixed-rate deal that's coming to the end of its term, you should be able to do this without too much difficulty. However, if you are only part way through a fixed-rate term, you may find that ending the deal prematurely carries a financial penalty.
When is it a good option to remortgage?
There are a number of circumstances where remortgaging for home improvements is generally a good idea:
You want to borrow more to fund home improvements
Remortgaging is a perfectly sensible way to borrow money to pay for home improvements, provided you've thought about your options and there are no financial penalties for ending the existing mortgage early.
Your fixed, tracker or discounted rate is ending
Remortgaging is a sensible option if you're on a fixed, tracker or discounted rate mortgage that is coming to the end of its agreed term. This means that once that term ends, you're free to remortgage for home improvements (arranging a completely new mortgage deal) without having to pay any exit penalties.
You want a more competitive rate

It may also make sense if you've found there's a significantly better rate available than the one you have currently, and the penalty for ending your current deal early is not so great that it negates the monthly savings you'll make on the new deal. So if you are planning to switch to take advantage of a better rate, and you also need to fund home improvements, rolling the two together may be wise.

You're concerned that the interest rate will go up

There's always a risk that interest rates will rise, and if you're on an SVR or tracker mortgage, a rise would almost certainly increase your monthly cost. That means remortgaging to a fixed rate might be worth considering and, if you also need to fund home improvements, why not lock in that additional borrowing at a rate that you're confident you can afford?

The value of your home has risen dramatically

If the value of your home has risen, you'll likely have more equity in the property than you did when you first took out your mortgage. This may mean that you're now in a lower loan-to-value (LTV) band making you eligible for a lower rate, potentially making remortgaging a sensible option. Again, it's always worth checking that you won't face penalties for ending a fixed, tracker or discounted deal prematurely.
When is it a bad idea to remortgage?
There are also several scenarios where it's not always a good idea to remortgage to fund home improvements:
You're locked into a long-term fix

If you're locked into a fixed-rate, discounted or tracker mortgage for an agreed time, you may have to pay a penalty to leave the deal early. This may not be sensible when you're trying to raise funds for home improvements. Do the maths carefully and work out what it will cost you to exit early. If you're not sure how to work this out, we can help you at Loan.co.uk.

You'll be stretching your finances

If borrowing on your mortgage for home improvements is going to result in a new monthly outgoing that will stretch your finances, think carefully before going ahead. If any of your other overheads increase, you may find yourself in a position where you're unable to cover your outgoings.

You're renovating to boost value in the short term

If you are making home improvements to boost its value in the short term, such as to sell it at an enhanced price, there may be a better way of doing this than by remortgaging. For example, using a credit card, a

personal loan

or a

bridging loan

are all more suitable shorter term options.
Homeowner loans for home improvements
Using a homeowner loan (sometimes called a secured loan or a second charge mortgage) to finance home improvements can sometimes be a better option than remortgaging.

Homeowner loans work by letting you use your equity (the percentage of the property you own outright) as collateral to borrow more money. This loan is separate from your original mortgage (so has no effect on your repayments) and can be from either the same or a different lender.

The collateral acts as security for the lender in that they can seize the property to recoup losses if the borrower is unable to repay the loan. Because of this security, the lender is usually happier to lend more money, offer better rates, or extend the repayment schedule.
When might a homeowner loan be a better option than remortgaging?
You may have to pay a significant exit penalty if you leave a fixed rate, tracker or discounted mortgage earlier than the agreed term. These can run into thousands of pounds, depending on the circumstances. Remortgaging may also incur other charges, such as a valuation fee, legal fees and an arrangement or booking fee.
If this is the scenario you find yourself in, using a homeowner loan to finance home improvements is definitely worth exploring. This does not involve leaving an existing deal, so there are no early exit fees involved.
Are there alternative ways to finance home improvements?
Depending on your circumstances, there are other ways to finance home improvements that may be more suitable for you. 
Personal loans
If you're only planning to borrow a relatively small amount, a personal loan may be useful. This type of unsecured loan is usually quick and simple to arrange. You pay back a fixed amount each month for the agreed duration of the loan. However, you tend to need a good credit rating and costs will generally be higher than on secured borrowing. As the loan is not secured, you won't be able to borrow as much money as remortgaging or through a homeowner loan.
Bridging loans
Although more commonly used to help complete the purchase of property, a bridging loan can be used to boost the value of your property in the short term. If you're planning to sell your property but believe you could increase its value by making home improvements before doing so, a bridging loan may be appropriate. However, bear in mind that this type of loan usually comes with high interest rates and additional arrangement fees.
Credit cards
It's important to consider all of your options carefully, so that you can get started with your home improvements without worrying about money. If you need advice about any aspect of financing home improvements, Loan.co.uk can help.