Should I 'Sell up' or Do up?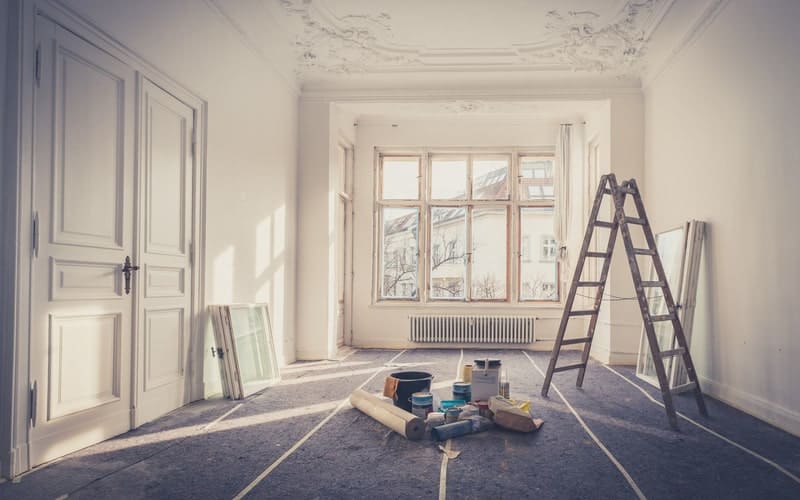 Selling up and buying a new home isn't always a viable option because house prices can be so high these days. So, maybe you should consider making some home improvements instead. Renovating your home could not only make it more enjoyable to live in, it could also add thousands to the value, usually for much less than the cost of moving and taking on a new (and usually bigger) mortgage.
Deciding whether to move or improve your current home can be a big decision. To help you decide between 'doing up' and 'selling up', we've looked at the pros and cons of both options.
Do up (renovate)
The pros
Choosing to improve your home enables you to put your own stamp on things and make sure the space really works for you and your family. Think about what will make your life easier. Would creating more space by extending or converting the loft be a great improvement for you? Or perhaps it's better to create open-plan living space by knocking down walls. If you have a queue for the shower each morning, how about adding an extra bathroom or en-suite to the master bedroom?
The bigger home improvements, such as extending or fitting a new kitchen, can be expensive, but they can add to the value of your property if they're tastefully done and they're in keeping with the rest of your home.
But, be aware of your area's ceiling price. If you overspend on the improvements you may find it hard to recoup the costs if you want to move in the future. Homes in your area may only be worth a certain amount even with lots of expensive uprades.
Another benefit of 'doing up' your home rather than moving, is that children will be able to stay in their current school so there's no disruption to their education.
The cons
Of course, there are some things you just can't change. For example, if there are things about your neighbourhood you don't like, such as a busy road or a long commute, home improvements can't improve the situation.
There can also be limitations to what you can change in your current property. If you have a small garden, you'll only be able to extend so far without your home looking too big for your plot. Some home improvements will need to meet certain building standards. For example, if you decide to convert your loft, there are strict regulations covering all the following aspects:
Fire. The stair enclosure needs to offer 30 minutes worth of fire protection. All doors to the conversion need to be fire rated and the existing upper floor ceilings will need either an extra layer of plasterboard or to be coated with intumescent (fire proofing) paint
Structural. A Structural Engineer will be needed to determine whether your roof trusses have only been designed to hold the roof up, and what structural alterations will be needed to make them able to support a conversion
Insulation. The minimum level of insulation for a loft conversion typically needs to be at least 100mm thick between the rafters, 25mm over the rafters and then have a12.5mm plasterboard finish on top
Stairs. Building regulations dictate the specifications of stairs in the UK. The Minimum rise (height) must be 150mm and the maximum rise must be 220mm.The going (stair width where your foot goes) should be a minimum of 220mm and a maximum of 300mm. The maximum pitch (angle) should be 42 degrees. Surprisingly, there are no regulations as to the minimum width of a staircase
Noise. Noise between a loft rooms and other rooms needs to be sufficiently insulated with at least 100mm of sound deadening quilt in the floor void. If you're converting the loft of a semi-detached or terraced property you'll also need to ensure that the sound resistance of the party wall (adjoining wall) is upgraded so that sound transmission is reduced
Height. The extension should not go higher than the highest part of the existing roof
With all these stringent regulations as to what you can and cannot do, it's important that you speak to a professional to help you assess whether what you want to do is possible.
Even seemingly simple renovations could cause a mess and may lead to you living on a building site for months, or without the use of your kitchen or bathroom if you intend to 'do these up'.
How Loan.co.uk could help fund your home improvements
Once you have a good idea of what your proposed home improvements would cost, you'll be able to see if your savings will cover the bill or if you'll need a loan. A good loan broker such as Loan.co.uk will be able to give you advice on the best way to fund your project, depending on your individual circumstances. Depending on the amount you need, a personal loan of up to £35,000 may cover it. Alternatively, you could consider a remortgage. A remortgage is where you take out a new mortgage on your home to replace your existing mortgage.
Sometimes a remortgage isn't feasible, perhaps because of affordability or a change in circumstances. It's possible that unfavourable early repayment charges would be incurred or a better rate would have to be sacrificed. If a remortgage doesn't make sense because of your circumstances, you could consider a homeowner loan (sometimes known as a secured loan).
Sell up (move home)
The pros
You may be able to find a property in the right area and at the right price, that ticks all the boxes on your wishlist for a move up the property ladder. If you can afford it, you'll be able to buy somewhere with the extra space without having to put up with disruption from builders.
The cons
You'll need to find out if there are homes on the market within your price range, in your desired location. If so, would they need building work? You'll need to have a look on Rightmove or Zoopla to see what's out there and check how much your existing property is worth. At Loan.co.uk we can value your property for you and work out how much you could borrow, based on your circumstances.
It's easy to overlook the costs involved in buying and selling. As well the possibility of needing a bigger mortgage to fund your dream home, there are other costs you'll also need to consider such as estate agents' fees, legal fees, stamp duty and the cost of hiring a van or removal company. Rightmove have a great calculator to help you estimate your moving costs.
Whether you sell or renovate, at Loan.co.uk we're here to help
With the cost of moving up the property ladder continuing to climb and a lack of homes on the market, many people are choosing to 'do up', not 'sell up'. If you're part of this growing trend, we're happy to help you fund your projects. And, if you decide to sell up, we can help you find the right mortgage for your new property.