Our Handy Guide on Personal Loans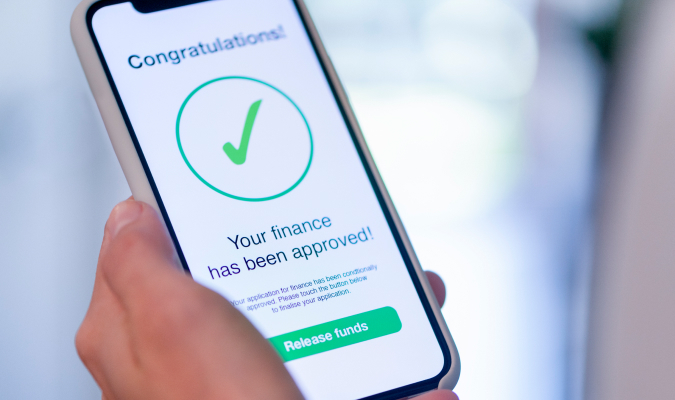 Whether it's a new car, a new kitchen, or something really glamorous like a new boiler, there will be times when you need to make a purchase but you don't have the money sat in your bank account to cover the cost or you want to spread the cost out over time.
There are all sorts of different ways to borrow the money of course, and in some instances, a personal loan will be the best choice. But how do they work? And where do you get one?
What is a personal loan?
A personal loan is a type of unsecured loan. (No, don't close the webpage, honestly, this is important.)
That means that the loan isn't secured against an asset you own, like your house or car, and as a result means that the interest charged on the loan might be a little higher.
You can also choose how long you'd like to pay the loan back for, with options ranging from the relatively short (like a year or two) to as long as eight years. You then make monthly repayments, and once you get to the end of that term the loan is paid off.
What is a personal loan used for?
You can generally borrow more with a personal loan (up to £35,000 from some lenders) than with other forms of credit, like a credit card or an overdraft. Because of that, they're usually used for slightly bigger things, like to help pay for some work in your home, arrange a wedding or to buy a car.
Alternatively, personal loans can be a useful option if you've got a bunch of outstanding debts already and you want to consolidate them into a single loan with a lower rate. That way you only have one loan balance and one monthly repayment date to keep on track of.
Check how much you could save with a debt consolidation loan.
What does a personal loan cost?
Knowing that you need a personal loan is the easy bit. Now you need to work out how much it's going to end up costing you. And that means considering a few different factors.
Interest rate
The first thing to think about here is the interest rate.
Yeah, we know it's not exciting, but it is important.
Essentially, the higher the rate of interest, the more the loan will cost you overall, so finding a loan with a lower rate is always a smart move. And because the loan is unsecured, the interest rate is often a little higher, as the lender doesn't have something it can take possession of should you fail to keep up with your repayments.
Is the rate fixed?
You also need to check whether that rate of interest on your personal loan is fixed or not. If it's fixed it means it won't change ‒ we know, stating the obvious ‒ and that means you'll know exactly how much your repayments will be each month. In contrast, some loans come with a variable interest rate, which means they can go up or down. As a result that means your monthly repayment will change too.
Will you get the advertised rate?
Another factor to keep in mind is that lenders use a 'representative APR' in their ads, but the rate you're offered is based on your credit score and history of making repayments, so you might be offered a higher rate if your repayments history is less-than-perfect.
The loan term
As well as the interest rate, the term of the personal loan will also affect how much it ends up costing you.
Borrowing £5,000 over five years will cost you more than over four years for example, because you are paying interest on the loan for longer, but your monthly payments will be lower.
However, because having a longer term means smaller repayments, they can be a good option for making borrowing easier on your budgets. Ultimately it will come down to your own finances and what you feel able to afford to pay each month.
Fees
Sometimes lenders and borrowers charge fees to process your loan or if you pay it back early. Before you go signing on any dotted lines, make sure you know exactly what fees are involved and how much it's all going to cost you in the end.
How much can I borrow with a personal loan?
How much you can borrow will vary by the lender, as they all have different ranges they are willing to offer. But generally, you can borrow anything from £1,000 up to £35,000 with a personal loan.
It's not just down to the lender though. The amount you'll be able to borrow will also be influenced by your financial situation and the state of your credit record.
The better your history with credit, the better your chances of securing a larger loan. So if you've got a spotless record you're in a stronger position than those who have got a handful of missed payments or county court judgements on their record.
Where can I get a personal loan?
Personal loans are available from lots of different sources. For example, pretty much all of the mainstream banks offer them, but then there are specialist lenders too.
It's also been an area targeted by peer-to-peer platforms. This is where savers, who are fed up of getting little to no return on their savings from traditional savings accounts, use their money to fund loans to individuals and businesses.
Getting a personal loan through a broker is another great option and can give you access to some advantages you might not be able to get on your own:
A broker will save you time and effort – Instead of the usual tedious process of having to navigate through numerous lenders, a broker will do this all for you and find the best deal. Not bad right?
There's not always strings attached – And by strings we mean fees, brokers will often get their commission from lenders so you don't have to necessarily worry about any hidden charges!
A product tailored to you – Brokers will usually have access to the best and most suitable products for your needs. They're also often well acquainted with lenders which will generally mean you get the best deal on the market for your situation.
Bad credit and self-employed aren't really barriers – We understand it can be hard to find a good deal if you're self-employed or have bad credit. Luckily for you, brokers are used to this and can do all the legwork required to give you the best options available.
In short, you will usually get a better deal by putting in less effort with a broker. Obviously there may be some lenders that don't work with brokers, but this is generally a small part of the market.
Can I use a personal loan as a house deposit?
It's no secret that buying a house is expensive, and one of the big hurdles buyers have to get past is the deposit. So can you cut the corner here and use a personal loan as your house deposit?
Lenders aren't fond of this idea, since it can effectively mean you are borrowing the entirety of the transaction price for the property you're buying. It also means that you'll have two sets of repayments to keep on top of each month, with both a mortgage and a personal loan, which may limit the amount they will actually lend you.
In short, it's not a great idea.
Can I get a personal loan if I'm self-employed?
When you apply for a personal loan, the lender will want to go through your finances so that they are confident that you'll be able to pay it off on time.
And one of the things they will look at is your employment status. Self-employed workers can see their incomes be a bit more variable than regular employees, and that can make lenders a little more nervous.
However, as long as you can show that you can afford the loan, you should still be able to get one even if you're self-employed; it may simply be that you have fewer products to choose from.
Personal loans vs secured loans
As we've mentioned, a personal loan is an unsecured loan, in that you aren't putting anything up as collateral. That's not the case with a secured loan, where the money you are borrowing is… well, you know, secured against something.
A good example here is a homeowner loan, which is also known as a second charge mortgage. This is a type of loan that's a little different from a traditional mortgage, but which is still secured against the property. As a result, if you fall behind on your repayments, the lender could look to repossess your home and sell it off, to raise the money you owe.
Wrapping up
So there you have it, a short and sweet guide on how personal loans work and things that you need to consider before getting one.
Of course, like all good things, this article must now come to an end. But if you are interested in getting a personal loan then we have some good news for you.
You can get an instant decision on a personal loan with Loan.co.uk and to top it all off, we are a broker. So all of those lovely broker benefits you read about earlier, you will get them with us!
Representative Example
A loan of £5,000 over 48 months at a fixed annual rate of 4.3% would result in a representative rate of 4.3% APR, 48 monthly repayments of £113.57 and a total amount repayable of £5,451.36.