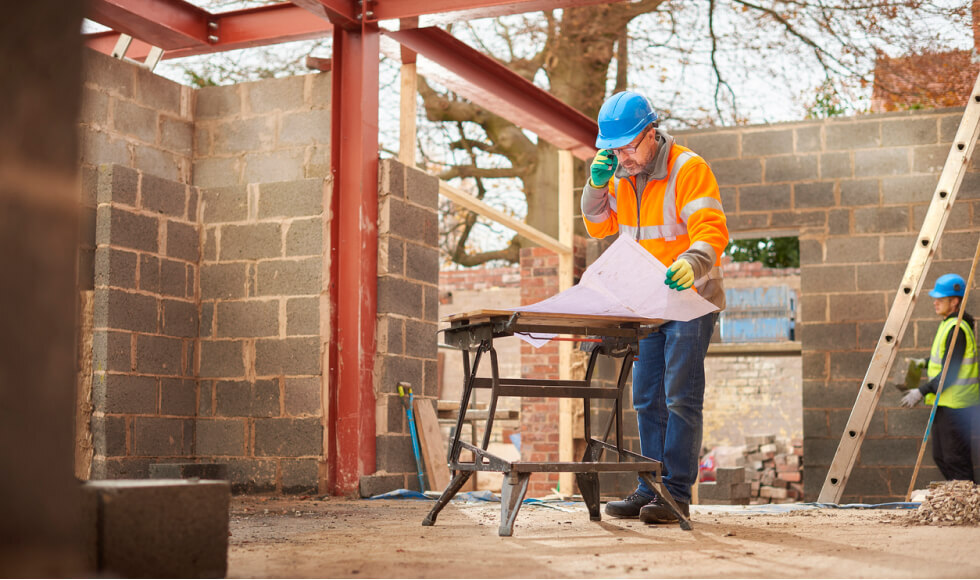 If you've ever watched a programme like Grand Designs or Homes Under The Hammer, chances are you've considered ‒ even if only for a moment ‒ having a go at property development. After all, how difficult can it be?
But there are plenty of things to consider before you head down to your local property auction, from finding the right area to working out how you're going to get out.
What's your exit plan?
Bizarre as it may sound, from the very beginning of a property development project, it's a good idea to be thinking about the end and how you're going to get out of the project.
For example, if you are looking to pick up a property on the cheap and do it up, then your exit plan will be selling it to a new buyer.
If you're hoping to build a property or two from the ground up, then you might have a few different exit routes in mind. Perhaps you want to sell a couple of units to homebuyers, but hold onto one or two and let them out yourself.
Working out how you plan to move on from the project is a crucial part of getting your development plan in place, and something that lenders will want to know before they approve funding for your project.
And speaking of funding…
What financing options are available?
Thankfully, there are a few different options open to you if you need a few quid to cover the cost of your development project.
Bridging loans
Perhaps the simplest way to fund property development is a bridging loan. A bridging loan, as the name suggests, acts as a 'bridge' to a more long-term setup like a mortgage.
For example, you might have spotted a property that's pretty run down ‒ perhaps with a run-down kitchen or an old-fashioned bathroom ‒ but you reckon that you could do it up and 'flip' it for a tidy profit.
The problem is, you might not be able to get a traditional mortgage on a property in that sort of disrepair. But you can get a bridging loan, which you could use to cover the initial purchase before remortgaging and then looking to sell the property on.
Bridging loans are very much a short-term option, as the interest rate is priced up on a monthly, rather than annual basis, so they can turn out rather expensive if they are in place for too long.
Refurbishment loans
Some lenders also offer something they call refurbishment loans.
A refurbishment loan is really just another word for a bridging loan that's designed specifically for people who want to buy a property, do it up, and then try to sell it on at a profit.
As a result they tend to be available at smaller loan sizes than full development finance, while some lenders will distinguish between light refurbishment (where no planning permission is required or building regulations need to be met) and heavy refurbishment, where the property is undergoing structural changes.
Development finance
A development finance loan is a form of finance for people taking on development projects that involve at least a couple of properties, so the amount they need to borrow may be on the larger side.
The amount you can borrow development finance is calculated based on what the project is likely to be worth at the end and also how much it's currently worth, sometimes referred to as the gross development value (GDV).
You don't get all of the money up-front either. Generally, you can access chunks of it as the development proceeds.
Do your homework
It's one thing to decide to have a go at property development, but it's quite another to find a suitable property or piece of land for your project.
You will need to do plenty of research on any prospective plot or property, so that you get a good idea of what demand is like in the area.
Your chances of making a tidy profit are going to be drastically reduced if you're taking on a development project in a town that already has lots of empty properties or that buyers simply aren't interested in, for example.
Doing your research is vital, because really understanding what properties sell for means you can be really confident that you are getting a good price on the property in the first place.
Your research can make a fundamental difference in how you go through with your development too. If an area is particularly popular with young professionals, then it makes sense to tailor the way you put that property together to ensure it meets their likely needs, whether that's the layout of the property or the furnishings.
Who's doing the work?
Whether you're looking to refurbish an older property or build something from the ground up, one thing is certain: there's going to be plenty of work to do. That's why you need to think carefully about who is going to do it.
If you have some experience with things like decorating and carpentry then you might fancy your chances of handling some of it yourself. But there may be some tasks that are simply outside of your wheelhouse. After all, how many of us really know what we are doing when it comes to installing a new kitchen or plumbing in a bathroom?
That's why finding the right contractors becomes incredibly important. You need to find professionals who know what they are doing, but can deliver at a price that means you'll still get a decent return on your investment.
Get your budget straight
Here's another thing that's certain: something will always go wrong with property development. Unfortunately, it's almost impossible for everything to go exactly to plan.
And that's why it's so important that you do your sums from the outset, work out exactly what budgets you have for the various aspects of the project, and then stick to them as closely as you can.
Overspending in an area or two can be the difference between finishing with a healthy project and ending up out of pocket.
Take a step back
It can be all too easy to let your own tastes and preferences influence your project, but it's important to bear in mind that the property you are developing isn't for you, it's for a buyer or tenant.
So it's a good idea to take a step back and try to view things dispassionately. If in doubt, play it safe. Just because you love a green carpet, that doesn't mean that having one put in will mean the property appeals to enough people to ensure you sell it or let it out at a good price.
Making your exit
Just as it's crucial that you find quality contractors, you also need to find the right people to help you make your exit.
This may change based on what that exit plan is. If you're looking to sell the property on then you'll need to find the right estate agent to help you attract suitable buyers, while if you're planning to hold onto the property and let it out then you may need to enlist a letting agent to keep the property occupied.
Start small
Things can easily go wrong with property development, leaving you significantly out of pocket.
So it's a smart move to start small with a little refurbishment project, and build both your confidence and experience from there.
Once you have completed a few developments successfully ‒ and learned a few lessons from the mistakes made along the way ‒ then you'll be in a better position to take on bigger projects.
It's worth remembering that some lenders are far more comfortable working with developers with a decent track record, so building that experience can make finding funding for those future projects far easier too.
Want to get started with your first project? Get a free, no obligation quote for development finance with Loan.co.uk.