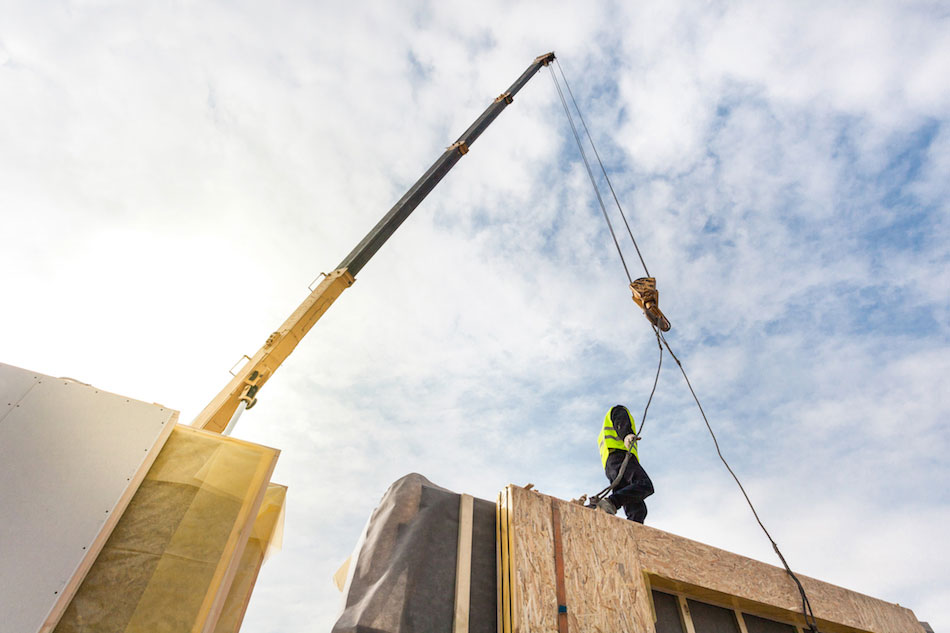 Theresa May has said on more than one occasion that "Britain's housing market is broken and in need of fixing." With property prices almost eight times the average annual income, an entire generation has little chance of owning their own home unless drastic action is taken and soon.
Various measures were revealed in the Budget back in October 2018, including help for first time buyers, relaxing planning permission so that unused commercial property on the high street could be used for housing and there was help for housing associations. But an idea that has its roots in an idea first used in Britain after World War II (when we faced a severe housing shortage) may at least helpsolve our latest housing crisis.
How modular housing could boost the housing supply
Modular housing, long associated with prefabricated housing, or 'prefabs', are homes that are mainly built off-site in sections that can be rapidly put together on the building site.
Although many people who still live in 'prefabs' to this day love them, they have a reputation for being low quality buildings and energy inefficient.
The latest version of modular buildings are much better quality, energy efficient and boast cutting-edge design. Nicky Gavron, former deputy mayor of London goes further, describing them recently as "Precision-engineered, digitally designed and eco-efficient".
They could boost the housing supply because compared to traditional building methods, they can be built quickly, giving them a vital part to play in helping solve our current housing crisis.
So what exactly is the size of the housing crisis?
It's estimated that around 300,000 homes need to be built in the UK to keep up with demand. In 2017, roughly 15,000 modular homes were built here, but now the UK government wants that figure to quickly increase to a massive 100,000 homes by 2020.
Support for modular properties is already growing
Mark Farmer, advisor to the UK government on construction strategy reckons, "The construction industry is one of the last to embrace modernisation" and says that, "Whilst we are all using smartphones, construction is still pretty much the same as it was in Roman times."
Mark Bryden, an adviser to the Greater London Authority on its house-building programme feels that the construction industry is due for an "Uber moment", or in other words, it's ripe for disruption by new technologies and more efficient building practices. With tech giants such as Amazon already showing a growing interest in the industry (even buying a flat-pack house builder in the USA), there's a good chance that he is right.
Meanwhile, Legal & General has invested £55m in a modular factory in Leeds and is aiming to build 3,500 homes a year. Berkeley Homes is building a factory in Kent that should produce 1,000 homes per year.
How modular could help solve the housing crisis
When you build a house completely on a building site, it has to be constructed in a certain order, which depending on what the weather's doing can lead to long delays and inefficiencies.
With a modular building, the site and foundations can be prepared whilst the rest of the building is being created off-site in a dry, covered factory. So, there are no delays due to the notoriously poor British weather, no waiting for building materials and less disruption to those neighbouring the building site.
Building modular homes is also good for building on smaller plots of land that are hard to get to, as there's no need for lots of delivery lorries.
Unlike the small prefab homes built after the war, the modular style of construction is now being used for residential tower blocks, such as Europe's tallest modular residential tower in Europe, currently being built in Wandsworth and the 257-bed student accommodation scheme just completed in north London.
At the opposite end of the scale, anyone that's watched Grand Designs will probably have heard of Huf Haus, the German company who put together highly desirable modular houses, usually for well-heeled self-builders. Once the concrete base is down (put in whilst the house is being built in sections off-site) it usually takes just one week to put up a highly desirable house. That compares to an average of six months for the average, traditionally built home.
Funding a modular home through Loan.co.uk
Whether you're a property developer, investor, self-builder or landlord, at Loan.co.uk we're able to help with development loans from £50,000 right up to £100 million.
The first step would be to purchase a plot of land. Being a 'ground up development' you would probably be best seeking a development loan with the finance drawn-down/released as agreed stages of work are completed.
Typically, a lender would be able to finance 50% of the land and 70% of the build with a development loan. And of course, you'll also need money for legal and conveyancing fees.
Contact Loan.co.uk to see how we can help your modular home building project get off the ground with a development loan.