Plymouth's historic Drake's Island fortress on sale for £6m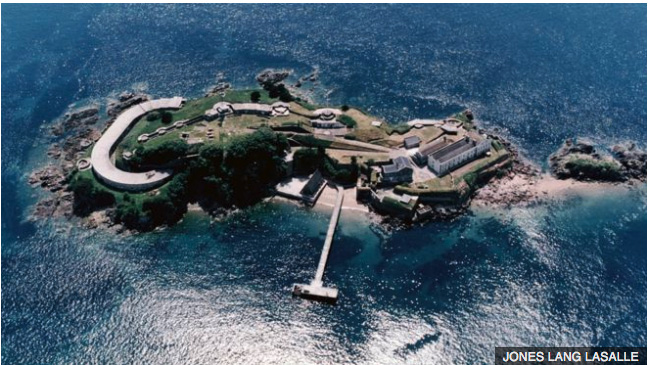 The entire island is one massive development opportunity and comes complete with a disused 6th Century barracks, a pier, a network of underground tunnels and planning permission for a luxury hotel and spa. Taking Drake's Island as an example, we take a look at how a developer with vision could purchase the island for sae and turn abandoned buildings into a viable, upmarket business.
Drakes Island, just 600 metres off Plymouth in Devon has just come onto the market with a guide price of £6 million. That includes everything on the six acre site; the existing buildings, land and pier. However, the buildings and tunnels will need a lot of work as the last time they were in use was back in 1989, when they were used as an adventure training facility.
So, if you were interested in buying this tiny island for sale with huge potential, what would be needed to buy and develop it?
Development loans
The chances are that whoever buys Drake's Island will need at least a little assistance from a loan broker such as Loan.co.uk as they'll need around £6 million just to buy the island. And, probably further millions on top to develop the buildings and take advantage of the planning permission for the luxury hotel and spa complex.
At Loan.co.uk we're able to help property developers, investors and landlords with development loans from £50,000 right up to £100 million, so more than enough to cover Drake's Island and the associated development costs.
So, how do development loans work? Well, let's take Drake's Island as an example.
To start with, you'd need to purchase the island, you'd need (approximately) £6 million. Then, there are three basic types of development project to consider; light development/refurbishment, heavy renovation and finally, ground-up development. Because the long abandoned buildings on the island are likely to need heavy refurbishment work/conversion (there's probably nothing remaining other than stonework), so the project will no-doubt fall into the 'ground-up' development category.
Ground-up developments typically require major planning, an architect, a large team of builders and tradespeople. The project will probably last a long time, with the finance drawn-down/released as agreed stages of work are completed.
For the sake of this example, let's say that that £3 million is needed to develop the existing buildings into a luxury hotel and spa.
A lender would probably be able to finance 50% of the land/ruins and 70% of the build. So, the buyer will need to come up with at least £3 million of their own money to buy the island and a further £900,000 for the build. Making £3.9 million and that's without a contingency fund or adding in legal and conveyancing fees etc.
Lending on this type of project often relies on the gross development value (GDV)
The GDV is important because many lenders will only consider lending at a maximum of 65% of the GDV, the total value of the finished development. So, if you believed that the island/luxury hotel and spa in our example would be worth £10 million when fully complete, the maximum they would probably be prepared to loan to a potential developer would be £6,5 million.
Of course, this is just a loose example of how a development loan might work, using fairly wild guesses as to the actual amount needed for the purchase and development of a luxury hotel and spa on Drake's Island. It will be interesting to see who buys it and what their vision for it will be.
Of course, if you have deep pockets but need a little help with financing your development plans for the island, Loan.co.uk will be more than happy to assist you.